Posts for tag: facial pain
By Natural Smiles Dentistry
October 30, 2017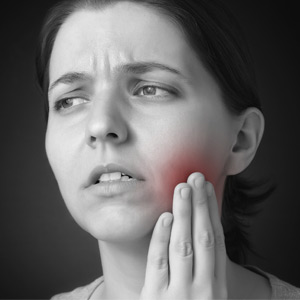 Our nerves serve a vital purpose, alerting us to bodily discomfort, injury or disease — we couldn't remain in good health for long without them. But when they malfunction due to genetics or disease, they can themselves become a source of pain and discomfort.
One such nerve disorder that affects the face is known as trigeminal neuralgia (TN) or tic douloureaux (from the French for "painful"). The nerves in question are the trigeminal, a pair that travel up from the brain stem through the skull into each side of the face where they each branch into the upper, middle and lower parts of the face and jaw. The pain can radiate from one or more of these branches.
TN is characterized by recurring episodes of brief but severe pain with accompanying muscle spasms. It may begin as a short twinge recurring over weeks, months or years before becoming increasingly painful. The slightest actions can trigger a painful episode: chewing, speaking, shaving or even the wind blowing on your face.
While it may be hard to determine its exact cause, it often seems to result from an artery or vein pressing on the nerve, causing it to signal pain at the slightest stimulation and then failing to stop transmitting when the stimulation is removed. It's also associated with other inflammatory disorders like multiple sclerosis where the protective insulation around a nerve is damaged.
Before receiving treatment you should undergo a complete examination to rule out any other facial pain causes like temporomandibular (jaw joint) disorders or a dental abscess. You may also need to undergo a neurological examination and possible MRI imaging to pinpoint the exact cause, like a tumor or blood vessel pressing on the nerve.
Although the condition may not be curable, there are several effective management treatments. The more conservative approaches usually involve medications to block the nerve's pain signals or decrease its abnormal firing. If this isn't sufficient to diminish symptoms, there are surgical options: passing a thin needle through the nerve to selectively prevent fibers from firing, or moving aside a blood vessel pressing on it. High-dose targeted radiation may also be effective, especially with older patients.
The best treatment approach will depend on the exact cause, your age and overall health. Whatever the approach, you can gain significant relief from the pain of TN.
If you would like more information on facial nerve disorders, please contact us or schedule an appointment for a consultation.
By Natural Smiles Dentistry
April 17, 2017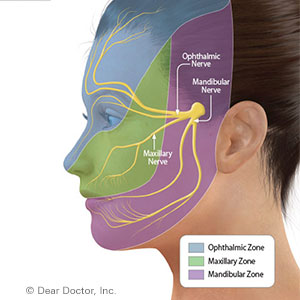 Life would be harrowing if we had no ability to feel pain. Although experiencing it is unpleasant, pain's purpose is to alert us to something wrong in our body. Without pain diseases and other problems could worsen to the point of life-threatening.
But pain without a purpose — the nerves simply misfiring — can make life miserable. This can happen with the trigeminal nerves that exit the brain stem and end on each side of the face. Each nerve has three branches that serve the upper, middle and lower parts of the face and jaw.
When they don't work properly, trigeminal nerves can give rise to a disorder known as trigeminal neuralgia. Beginning often as an occasional twinge, they may escalate to several seconds of mild to excruciating pain occurring over weeks, months or even years. An episode may erupt from chewing, speaking or even lightly touching of the face.
We see this condition most often in people over fifty, particularly women. We don't know the exact cause, but there's strong suspicion that the nerve's protective sheath has been damaged, similar to what occurs with multiple sclerosis or other inflammatory conditions. Another possibility is a blood vessel putting pressure on the nerve and disrupting its normal operation. Such an impinged nerve might transmit pain signals at the slightest stimulation and then fail to "switch off" when the stimulation stops.
Although we can't cure trigeminal neuralgia, we can help you manage it and reduce discomfort during episodes. We'll first try conservative, less-invasive techniques, like signal-blocking medications or drugs that reduce abnormal firing.
If these aren't effective, we may then recommend a surgical solution. One such procedure is known as percutaneous treatment in which we insert a thin needle to selectively damage nerve fibers to prevent their firing. If we've determined an artery or vein has compressed the nerve, we might surgically relocate the vessel. These techniques can be quite effective but they do have possible side effects like numbness or hearing loss.
If you've experienced facial pain, don't continue to suffer. Visit us for a complete examination and learn about your options for pain relief. More than likely, there's a way to reduce your pain and improve your quality of life.
If you would like more information on facial pain, please contact us or schedule an appointment for a consultation. You can also learn more about this topic by reading the Dear Doctor magazine article "Trigeminal Neuralgia."