Posts for tag: dental implants
By Natural Smiles Dentistry
May 14, 2018
For generations, dentures have helped people avoid the dire consequences of total teeth loss. Now, implant technology is making them even better.
Composed of life-like prosthetic teeth fixed within a plastic or resin gum-colored base, dentures are manufactured to fit an individual patient's mouth for maximum fit, comfort and performance. But dentures also have a critical drawback—they can't stop bone loss in the jaw.
Bone is constantly regenerating as older cells dissolve and then are replaced by newer cells. In the jawbone, the forces generated when we chew travel through the teeth to the bone and help stimulate this new cell growth. When teeth are missing, though, the bone doesn't receive this stimulus and may not regenerate at a healthy rate, resulting in gradual bone loss.
Dentures can't transmit this chewing stimulus to the bone. In fact, the pressure they produce as they rest on top of the gums may actually accelerate bone loss. Over time then, a denture's once secure and comfortable fit becomes loose.
In the past, most patients with loose dentures have had them relined with new dental material to improve fit, or have new dentures created to conform to the changed contours of the jaws. But implant technology now offers another alternative.
Implants are in essence a tooth root replacement. Dentists surgically implant a titanium metal post directly into the jawbone that naturally attracts bone cells to grow and adhere to it over time (a process called osseointegration). This not only creates a secure and lasting hold, it can also stop or even reverse bone loss.
Most people know implants as single tooth replacements with a porcelain crown attached to the titanium post. But a few strategically placed implants can also support either removable or fixed dentures. Removable dentures (also called overdentures) usually need only 3 or 4 implants on the top jaw and 2 on the bottom jaw for support through built-in connectors in the dentures that attach to the implants. A fixed bridge may require 4-6 implants to which they are permanently attached.
There are pros and cons for each of these options and they're both more expensive than traditional dentures. In the long run, though, implant-supported dentures could be more beneficial for your bone health and hold their fit longer.
If you would like more information on implant-supported dental work, please contact us or schedule an appointment for a consultation.
By Natural Smiles Dentistry
January 29, 2018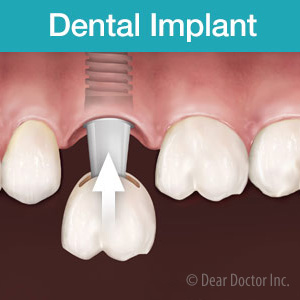 When it comes to replacing a missing tooth, you have several options, including a removable partial denture or a fixed bridge. But the premier choice is "the new kid on the block" at just over thirty years old: dental implants. Implants are by far the most popular tooth replacement choice among both patients and dentists.
But they also happen to be the most expensive option, at least initially. So the question is, why invest in dental implants over less costly choices?
Here are 3 reasons why implants could be well worth their price.
More Like a real tooth than other restorations. Implants can match the life-like appearance of any other replacement choice, often utilizing the same types of materials. But where they really excel is in function—how they perform while biting and chewing. This is because the dental implant's titanium post imbedded in the jawbone replaces the tooth root. No other dental restoration can do that—or perform better when comparing the resulting functionality.
Best long-term solution. As we mentioned before, the initial implant cost is typically higher than either dentures or bridges. But you should also consider their durability compared to other choices. It could be potentially much longer—possibly decades. This is because the titanium post creates an ultra-strong hold in the jawbone as bone cells naturally grow and adhere to this particular metal. The resulting hold can withstand the daily forces generated during eating and chewing. With proper care they might even last a lifetime, and actually cost you less in the long run over other choices.
Adaptable to other types of restoration. Implants have greater uses other than as individual tooth replacements. A few strategically placed implants can also be used to support removable dentures or a fixed bridge for multiple teeth or an entire dental arch. As the technology continues to advance, implants are helping to make other restoration options stronger, more stable and longer lasting—and adding more value to your investment.
If you would like more information on dental implants, please contact us or schedule an appointment for a consultation. You can also learn more about this topic by reading the Dear Doctor magazine article "Dental Implants 101."
By Natural Smiles Dentistry
January 24, 2017
You've seen the ads for obtaining a new tooth in one day with a dental implant. Those aren't exaggerated claims — you can leave the dental office the same day with a new tooth that looks and functions like the old one.
But the dramatic marketing aside, there is a bit more to the story. Same day tooth replacement isn't appropriate in every situation. And even when it is, there are risks for failure.
We can minimize those risks, however, by focusing on certain goals during the three distinct phases in the process: removing the natural tooth; placing the metal implant into the jawbone; and affixing the visible, crown.
It's crucial during tooth extraction that we avoid damaging the socket bone that will ultimately support the implant's titanium post. If the socket walls break down it could set up future gum recession or cause us to abort the implant procedure altogether that day.
When placing the implant, we want to focus on achieving a strong hold. Due to its special affinity with titanium, bone cells gradually grow and adhere to the post to firmly anchor the implant in time. But since we're immediately loading a crown rather than allowing the bone to fully integrate first, we need to ensure the implant has a secure hold from the get-go. We can only achieve this with precise placement based on careful examination and planning, as well as adequate bone.
Even so, the implant still needs to integrate with the bone for a lasting hold, and that takes time. Even with normal biting forces the implant risks damage during this integration period. That's why we place a temporary crown a little shorter than the surrounding teeth. Those adjacent teeth will take the brunt of the biting force and not the implant.
Once the bone has fully integrated, we'll replace the temporary crown with a permanent one the proper height proportional to the other teeth. Even with the temporary crown, though, you'll still have a life-like tooth the day we removed the older one.
The key to success is planning — first determining if you meet the criteria for a same-day implant and then mapping out and carefully executing each succeeding step. Doing this will ensure your same-day implant is a success from day one.
If you would like more information on same-day tooth replacement, please contact us or schedule an appointment for a consultation. You can also learn more about this topic by reading the Dear Doctor magazine article "Same-Day Tooth Replacement with Dental Implants."