Posts for: May, 2022
By Natural Smiles Dentistry
May 17, 2022
During this year's baseball spring training, Minnesota Twins center fielder Byron Buxton got into a row with a steak dinner—and the beefsteak got the better of it. During his meal, the Gold Glove winner cracked a tooth.
Fortunately, he didn't lose it. Buxton's dentist rescued the tooth with a dental procedure that's been around for over a century—a root canal treatment. The dependable root canal is responsible for saving millions of teeth each year.
Dentists turn to root canal treatments for a number of reasons: a permanent tooth's roots are dissolving (a condition called resorption); chronic inflammation of the innermost tooth pulp due to repeated fillings; or a fractured or cracked tooth, like Buxton's, in which the pulp becomes exposed to bacteria.
One of the biggest reasons, though, is advanced tooth decay. Triggered by acid, a by-product of bacteria, a tooth's enamel softens and erodes, allowing decay into the underlying dentin. In its initial stages, we can often treat decay with a filling. But if the decay continues to advance, it can infect the pulp and root canals and eventually reach the bone.
Decay of this magnitude seriously jeopardizes a tooth's survival. But we can still stop it before that point with a root canal. The basic procedure is fairly straightforward. We begin first by drilling a small hole into the tooth to access the inner pulp and root canals. Using special instruments, we then remove all of the infected tissue within the tooth.
After disinfecting the now empty spaces and reshaping the root canals, we fill the tooth with a rubber-like substance called gutta percha. This, along with filling the access hole, seals the tooth's interior from future infection. In most cases, we'll return sometime later and bond a life-like crown to the tooth (as Buxton's dentist did for him) for added protection and support.
You would think such a procedure would get its own ticker tape parade. Unfortunately, there's a cultural apprehension that root canals are painful. But here's the truth—because your tooth and surrounding gums are numbed by local anesthesia, a root canal procedure doesn't hurt. Actually, if your tooth has been throbbing from tooth decay's attack on its nerves, a root canal treatment will alleviate that pain.
After some time on the disabled list, Buxton was back in the lineup in time to hit his longest homer to date at 456 feet on the Twins' Opening Day. You may not have that kind of moment after a root canal, but repairing a bothersome tooth with this important procedure will certainly get you back on your feet again.
If you would like more information about root canal therapy, please contact us or schedule a consultation. To learn more, read the Dear Doctor magazine article "A Step-By-Step Guide to Root Canal Treatment."
By Natural Smiles Dentistry
May 07, 2022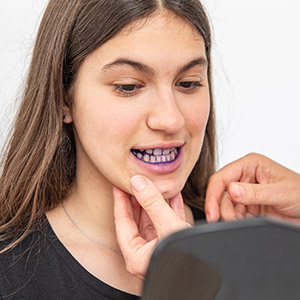 One of the toughest enemies your teeth face is dental plaque, a thin film of bacteria and food particles. Accumulated dental plaque can trigger both tooth decay and periodontal (gum) disease, which is why removing it is the true raison d'etre for daily brushing and flossing.
But if you do indeed brush and floss every day, how well are you fulfilling this prime objective? The fact is, even if your teeth feel smooth and clean, there could still be missed plaque lurking around, ultimately hardening into tartar—and just as triggering for disease.
The best evaluation of your brushing and flossing efforts may come at your semi-annual dental cleanings. After thoroughly removing any residual plaque and tartar, your dentist or hygienist can give you a fairly accurate assessment of how effective you've been doing in the plaque removal business.
There's also another way you can evaluate your plaque removal ability between dental visits. By using a plaque disclosing agent, you can actually see the plaque you're missing—otherwise camouflaged against your natural tooth color.
These products, usually tablets, swabs or liquid solutions available over-the-counter, contain a dye that reacts to bacterial plaque. After brushing and flossing as usual, you apply the agent to your teeth and gums per the product's instructions. After spitting out any remaining solution, you examine your teeth in the mirror.
The dye will react to any residual plaque or tartar, coloring it a bright hue like pink or orange in contrast to your normal tooth color. You can see the plaque, and perhaps even patterns that can show how you've missed it. For example, if you see brightly colored scallop shapes around the gum line, that's telling you you're not adequately working your toothbrush into those areas.
The dye eventually fades from the teeth in a few hours, or you can brush it away (and fully remove the plaque it disclosed). Although it's safe, you should avoid ingesting it or getting it on your clothes.
Regularly using a disclosing agent can give you excellent feedback for improving your hygiene techniques. Getting better at brushing and flossing will further reduce your risk for dental disease.
If you would like more information on daily plaque removal, please contact us or schedule an appointment for a consultation. You can also learn more about this topic by reading the Dear Doctor magazine article "Plaque Disclosing Agents."