Posts for: December, 2020
By Natural Smiles Dentistry
December 21, 2020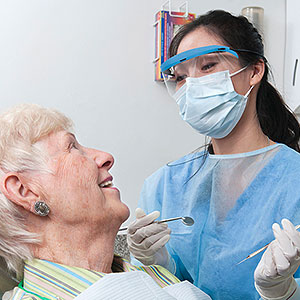 Daily oral hygiene and regular dental cleanings help keep your natural teeth and gums healthy and disease-free. But they're also a priority with dental implants. Here's why.
Unlike other restorations, an implant replaces both a tooth's crown and root, the latter by way of a titanium metal post imbedded into the jawbone. Bone cells grow and adhere to the metal surface, forming a secure and lasting hold.
But although quite durable, this hold differs significantly from natural teeth, which are actually held in place by a tough, elastic tissue called the periodontal ligament. The attachment of the ligament's tiny fibers to both tooth and bone secure the tooth in place, as well as supply it and the surrounding gums with nutrients and defensive antibodies to fight infection.
Implants don't have this relationship with the periodontal ligament. The tissues around an implant are thus susceptible to an aggressive form of periodontal (gum) disease called peri-implantitis. This kind of gum infection can progress rapidly, leading eventually to bone loss and possible failure of the implant.
Daily brushing and flossing of both natural and implant-supported teeth lowers the risk of gum disease, particularly peri-implantitis. It's also imperative that you undergo regular cleanings, at least every six months, with your dentist or dental hygienist.
These, however, won't be the typical cleanings performed on natural teeth. Hygienists don't use metal cleaning implements to remove plaque and tartar deposits because they can scratch the metal materials of the implant and crown. These microscopic scratches can then attract bacteria that trigger gum infections. Instead, they'll use instruments made of plastics or resins.
Hygienists also rely heavily on ultrasonic equipment that vibrates plaque loose on or around implants, which are then flushed away with water. The tips used with these instruments are also typically made of nylon or plastic sheathing.
Even with the extra hygiene care needed, implants still enjoy a 95% or higher survival rate after ten years. You can ensure your implants achieve that level of durability by keeping them clean and seeing your dentist at the first sign of a gum infection.
If you would like more information on maintaining dental implants, please contact us or schedule an appointment for a consultation. You can also learn more about this topic by reading the Dear Doctor magazine article "Dental Implant Maintenance."
By Natural Smiles Dentistry
December 10, 2020

It's been a rough year for all of us, but especially for Simon Cowell. The famous entrepreneur and brutally honest talent judge on American Idol and America's Got Talent underwent emergency back surgery in August after an accident on a new electric bike. But the good news is he's well on his way to recovery—and well enough in October to undergo another, less-stressful, procedure: a smile makeover with dental veneers.
This latest trip to the dentist wasn't Cowell's first experience with the popular restoration, wanting this time to update his smile to more closely resemble what he had when he was younger. He even brought along some older photos for reference.
Veneers aren't exclusive to celebrities like Simon Cowell, as thousands of people who get them every year can attest. These thin wafers of porcelain bonded to teeth can mask a wide range of defects, from chips, wear or discoloration to slight tooth gaps or misalignments. And every veneer is custom-made to match an individual patient's dental dimensions and coloring.
If you're thinking about a smile upgrade, here are a few reasons to consider dental veneers.
More bang for your buck. Compared to other transformative cosmetic options, veneers are relatively affordable, with the cost dependent largely on the extent of your dental needs. Still, dental veneers are an investment that can give long-lasting yields of a more attractive smile and even a completely new look.
Little to no tooth alteration. In most veneer cases, we need only remove a small amount of enamel so the veneers don't appear bulky (the alteration is permanent, though, so you'll need a veneer on the tooth from then on). It's also possible to get "no-prep" veneers requiring little to no alteration.
Durable and long-lasting. Continuing improvements in porcelain and other dental ceramics have led to stronger forms that can better withstand the biting forces your teeth encounter every day. Although you'll still need to be careful biting into hard items, your veneers can last for several years.
Easy to maintain. Veneer cleaning and maintenance is much the same as with natural teeth—daily brushing and flossing, and regular dental cleanings and checkups. Outside of that, you'll need to watch what you chomp down on: Veneers are strong, but not indestructible, and they can break.
As Simon Cowell knows, getting veneers isn't difficult. It starts with an initial visit so we can evaluate your dental health and needs. From there, we can present options on how to update your smile.
If you would like more information about dental veneers, please contact us or schedule a consultation. To learn more, read the Dear Doctor magazine articles "Porcelain Veneers" and "No-Prep Porcelain Veneers."